Online Learning 101, Part 2: Asynchronous is Not Always Self-Paced
This blog post is part of a series. If you have not yet read Online Learning 101, Part 1: All Online Learning is NOT the Same, click here.
One common misconception in the world of online learning is that asynchronous online courses are synonymous with self-paced online courses. This inaccuracy is understandable—after all, virtually all self-paced online courses are asynchronous. The reverse, however, is not always true. Not only can asynchronous online courses be paced—they can also promote many of the same qualities of community building and relationship often found in more synchronous, cohort-based, paced settings.
Most VHS Learning online courses are delivered asynchronously, and are paced experiences. In fact, keeping the student moving through the course curriculum in a paced manner is a critical aspect of our standard pedagogic approach, and strongly linked with two other key aspects of our model: that our courses are both cohort-based and teacher-led.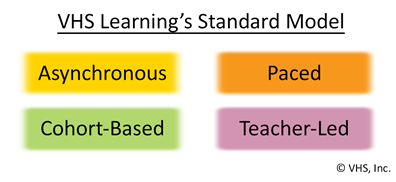 Years spent observing VHS Learning courses in action have shown me first-hand that it is a fallacy to think you cannot build relationships and community within an asynchronous online course structure. Indeed, our model works best when we focus on activities and instructional strategies that emphasize both of those goals. This is true regardless of the course discipline: STEM, humanities, life skills—it does not matter. Student engagement and outcomes can be highly impacted by relationships—teacher to student; student to student; even teacher to site coordinator or parent.
We want our asynchronous, paced delivery model to foster deep relationships just as they would in a quality face-to-face classroom experience. And so, from our curriculum development process to our graduate-level teacher training course, to our ongoing faculty advising support programs, we devote considerable time and effort to making sure students feel part of a community of learners and that they feel valued by their teachers and peers—all of which can and does happen within an asynchronous delivery model.
There is a growing body of research-backed evidence that when students feel respected and part of a larger community, they are more engaged and that engagement leads to better outcomes—both in terms of short-term course performance, as well as longer-term outcomes related to graduation rates, the pursuit of college degrees, and more. I recently came across some excellent research from the Student Experience Research Network. In their report, Structures for Belonging: A Synthesis of Research on Belonging-Supportive Learning Environments, researchers Kaleen Healey and Chloe Stroman speak to the importance of building a learning environment where students feel they truly belong:
"Belonging is a universal human need that is fundamentally linked to learning and well-being. It describes an individual's experience of feeling that they are, or are likely to be, accepted and respected as a valued contributor in a specific environment. When students experience a sense of belonging in a learning environment, there are both immediate and long-term positive consequences for their academic performance and well-being." [1]
That sense of belonging is not only possible in an asynchronous online course—I've seen it happen firsthand, over and over again.
*Author's Note: Self-paced online learning can be effective and play an important role in a school's overall strategy. VHS Learning's handful of credit recovery courses, for example, are self-paced and useful for specific situations when scheduling and/or credit recovery are key factors. And although students lose the connection with their peers in this self-paced model, the relationship with their teacher is still vital to student success.
John Englander is Program Officer for VHS Learning. He is responsible for overseeing special projects and pursuing research and evaluation opportunities on VHS Learning's program and pedagogic approach. He also works with foundations and educational organizations to develop partnerships that expand the reach of VHS Learning's mission to provide students and teachers with collaborative and engaging learning opportunities.